Welcome to the Hamburg Institute
for Innovation, Climate Protection
and Circular Economy (HiiCCE)
We are pioneers, initiators and thought leaders when it comes to the circular economy.
As an institute based in Hamburg, Germany, we offer our accumulated experience to provide outstanding competence of all players – in terms of the topic, science and real-life practice – for a sustainable circular economy.
HiiCCE stands for a unique spectrum of services and, at the same time, a high degree of design and innovation abilities, both nationally and internationally.
Our institute brings together the competences of Stadreinigung Hamburg, the Sustainable Resource and Waste Management working group of the Hamburg University of Technology, and the former JOMA Umwelt-Beratungsgesellschaft under a single roof.
This collaboration bundles unique competence and decades-long experience in the areas of waste management, environmental consultancy and science.
Furthermore, HiiCCE is supported by a high-calibre, ten-person Advisory Board whose renowned members contribute both diverse and profound expertise in the areas of climate protection and resource conservation – thus ensuring clients notably profit from HiiCCE in the long term.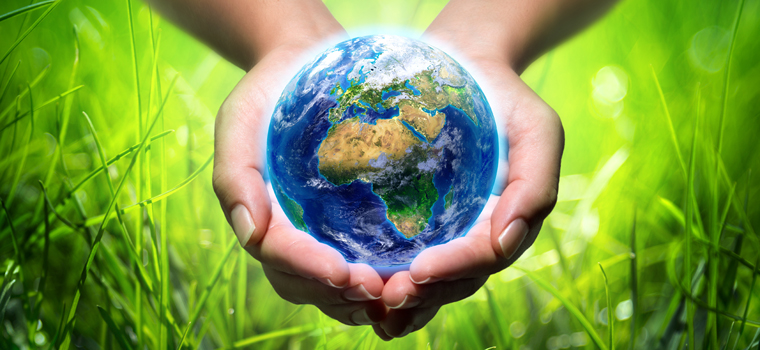 Immense global and ecological challenges: circular economy plays a key role
The skyrocketing growth in the world's population and the resource-intensive change in lifestyle are forcing humanity to face enormous ecological challenges.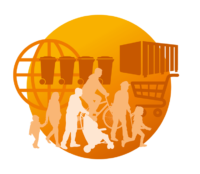 Population growth
In 2050, our planet will have nearly 2 billion people more to shoulder than in 2020 (7.79 billion)1. The world's waste will then rise from 2.02 billion tonnes in 2016 to 3.4 billion tonnes2. The global consumption of natural, limited resources is irresponsibly high. Only a functioning circular economy can stop this dramatic development. A revolution is more than past due.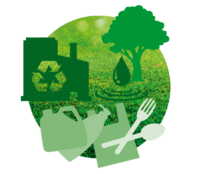 Resource conservation / efficiency
Packaging and composites not suitable for recycling, product design which hasn't been well thought through, over-production, the poor quality and high costs of recycled products, or inefficient collection, stand in the way of an effective and sustainable circular economy. In 2017 in Germany, only about 15 per cent of plastic waste, a total of 5.2 million tonnes, was reused4. More than half of the world's plastic produced between 1950 and 2015 (8.3 billion tonnes) have ended up in landfills or the environment. About 2.5 billion tonnes are still in use, 0.8 billion tonnes have been incinerated and only 0.1 billion tonnes have been recycled5. For material groups such as paper, glass, wood and metal, the numbers are just as disappointing.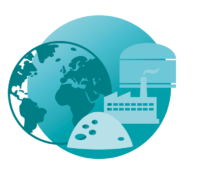 Climate change and the energy transition
Only a resolute and long-overdue switch from fossil to renewable energy will reduce the ruinous effects of climate change and conserve our natural resources. Here, too, is where a functioning circular economy can achieve positive results. In 2016, more than 50 per cent of all waste worldwide was deposited in landfills, and only about one-fourth of all waste was reused for generating materials or thermal heat3. Thanks to effective material/energy use of largely biogenic fractions – in combination with hydrogen strategies – we can make a significant contribution to the energy transition and thus to climate protection and resource conservation. The exploding amount of climate-relevant corrosive gases can only be halted with drastic measures – and uncontrolled waste disposal stopped.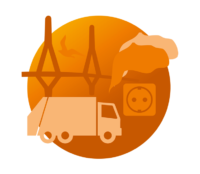 Mobility transition
When it comes to the much-discussed mobility transition, we are lagging behind the original forecasts in the areas of electric mobility, fuel cells and synthetic fuels. The waste management industry is therefore actively working on its own alternative solutions for the long term, such as the use of electric or hydrogen-powered cleaning, transport and collection vehicles. Pioneering examples and previously tested mobility concepts can serve as the blueprint for the future. This also includes the use of waste itself as the basis for a synthetic fuel type.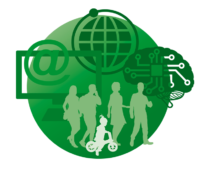 Digitalisation
Artificial intelligence in the waste management industry? For many, this is hardly imaginable, yet for industry experts, it is the future. Industry 4.0 – this stands for a new era of industrial manufacturing, which is currently being driven forward on both a scientific and a political level. The ongoing linking of value-added chains is also an important step for the circular economy. For instance, digital platforms, automated processes, autonomous driving and new technologies in treatment and reuse have already been making an impact on waste management practices in some cases.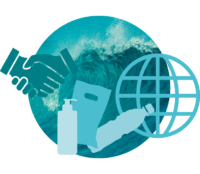 Environmental pollution
Ten rivers flushed more than 44 million tonnes of plastic waste into the world's oceans in 2017 – the Yangtze Kiang in Asia contributed nearly one-third of this amount6. Sustainability measures to combat the destruction of the global ecosystem are demanded of all responsible parties and individuals worldwide. Additional irreparable damage to the areas significant to our livelihood – air, earth and water – are to be stopped immediately. The waste management industry must act urgently and set a global example, with sustainability concepts centred on prevention, collection and treatment.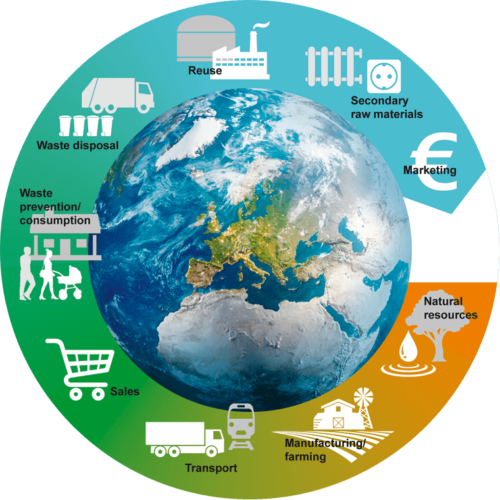 On behalf of future generations, we have to steer our actions globally in such a way that waste is never even produced, and valuable resources can be used time and time again.
The circular economy takes on a key role when it comes to sustainability answers to the global waste problem, by carefully using non-renewable raw materials and supporting sustainable climate protection.
Our planet is our home, our only home. Where shall we go if we destroy it? (Dalai Lama)
References
1 © Statista 2020/UN DESA (Population Division), World Population Prospects: the 2019 Revision
2 © Statista 2020/World Bank, What a Waste 2.0, 2018
3 © Statista 2020/World Bank, What a Waste 2.0, 2018
4 Plastikatlas 2019, Heinrich-Böll-Stiftung und Bund für Umwelt und Naturschutz Deutschland (BUND)
5 © Statista 2020/Fachzeitschrift "AAAS (Science Advances)", 2019
6 © Statista 2020/Helmholtz-Zentrum für Umweltforschung, 2018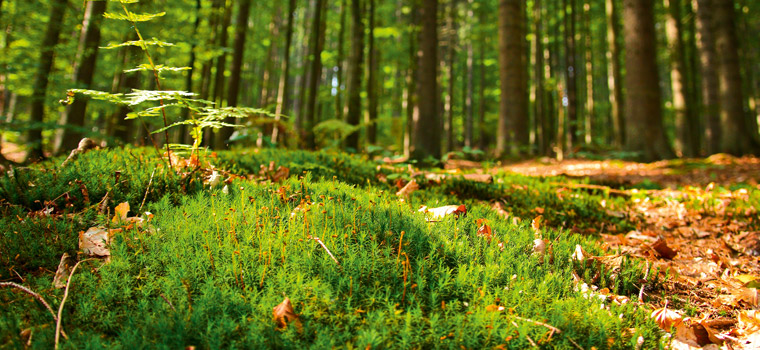 Integrated consultancy competence sets new standards in the circular economy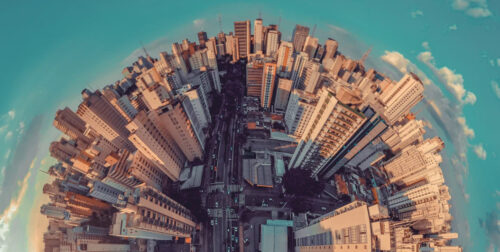 Thanks to our integrated consultancy competence, we are setting new standards for our clients in the area of the circular economy. On the one hand, we offer real-life, practical state-of-the-art solutions centred on the circular economy. On the other hand, we are redefining the circular economy for the market – with creative ideas and concepts, which aim for measurable and, at the same time, long-term results.
The ambition of HiiCCE is to bundle decades-long scientific practice, technical know-how and operative powers and to act as a hub in such a way as to enable companies and firms, economic organisations and NGOs, as well as state governments and international organisations, to profit over the long term from a circular economy on a completely new level.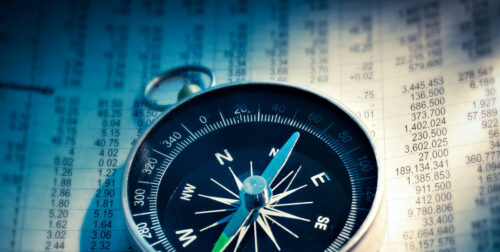 HiiCCE stands for identifying global ecological challenges and providing customer-specific proposals and concepts for solving problems, especially in the context of developing waste management measures. Depending on the task at hand, the HiiCCE team supports the entire process – from concept development to planning to execution.
The special expertise of HiiCCE is based on the bundling of decades-long experience in science, planning and operations, enabling us to find holistic solutions to complex challenges.
The focus on the sustainability of solutions is just as important as on their innovative science approach, profitability and feasibility.
In this respect, HiiCCE sees waste and disposal management not only as part of the problem, but as a significant player most of all in the development of sustainable answers to global challenges.